University of California President Drake awards UC Presidential Medal to former California Gov. Gray Davis
University of California President Michael V. Drake, M.D., has awarded the UC Presidential Medal to former California Gov. Gray Davis in recognition of his significant investments in public higher education for the benefit of the state during his tenure as the 37th governor of California.
From left to right, President Drake, Lt. Gov Eleni Kounalakis, former Gov. Gray Davis and UC Board of Regents Chair Richard Leib at an event honoring Gov. Davis held on Sept. 20 at UCLA.
This article was originally published by UC Newsroom
In awarding the medal on Sept. 20 at UCLA, Drake cited the former governor's steadfast advocacy and fiscal support for the creation of the University of California's ninth undergraduate campus, UC Merced — the first U.S. research university opened in the 21st century — and his push for interdisciplinary research in areas critical to California's economic future.
"There are moments and leaders in our state history that combine to expand educational opportunity and move California toward a better, more equitable future for all," said President Drake in awarding the medal, the highest honor a UC president can bestow. "Gov. Davis held fast to a vision for expanding access and enhancing new knowledge creation — and that has proven to be a sound investment for the state of California."
In December 2000, Gov. Davis created four UC-based California Institutes of Science and Innovation, which have since expanded to nine UC campuses, to support interdisciplinary research in fields that were critical to the state's economic future: Biomedicine, bioengineering, nanosystems, telecommunications and information technology.
The institutes were created to bring together university researchers and private industry to boost the state's economy and harness the power of research and discovery to address large-scale societal problems. All institutes have incubators on-site that support new companies that create jobs and attract venture capital investment.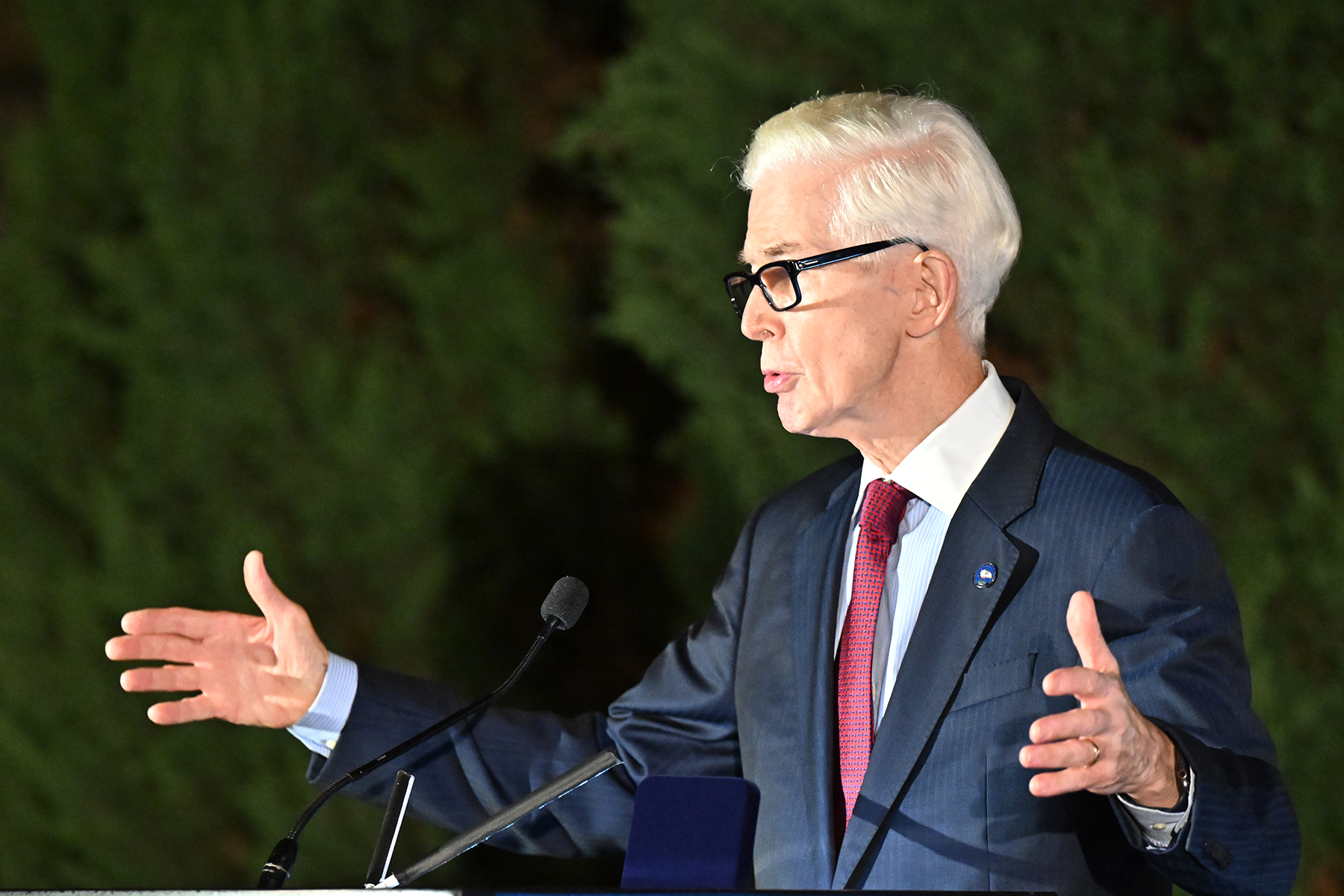 Gov. Davis shares remarks upon receiving the medal.
"As governor, one of my highest priorities was ensuring that California remained the preeminent land of education, opportunity and innovation. That is why my administration was so focused on opening UC Merced, the first UC in 40 years, and four well-funded Institutes of Science and Innovation. I am honored to receive this medal and proud of our collective support for cutting-edge UC research that ensures our state remains the world leader in innovation," Gov. Davis said. "The challenges our planet faces have only grown more stark in the past quarter century, but the education, research and public service nurtured at the University of California give us all hope for the future."
The four institutes, which celebrated 20 years of discovery in 2020, are:
Gov. Davis's focus on public higher education during his tenure as governor helped spearhead critical budgetary support for the creation of UC Merced, which was founded with a particular focus on expanding access to higher education and nurturing economic vitality in the San Joaquin Valley. In fewer than 25 years, UC Merced has earned renown as one of the top universities for academic quality and impact on social mobility. It is increasingly known for its research prowess and commitment to environmental sustainability.
"Governor Davis has been a beacon of inspiration throughout his illustrious career, leaving an indelible mark on the landscape of public service and education," said UC Board of Regents Chair Richard Leib. "After leaving office, Gov. Davis volunteered alongside UC San Diego professor Neal Driscoll, Cal Fire and the Jet Propulsion Laboratory to install over a thousand specialized infrared cameras to detect wildfires, protecting people and property of this great state. His leadership and contributions have impacted the lives of countless individuals within and beyond the University of California community."
The UC Presidential Medal was established in 1997 by then-UC president Richard C. Atkinson as a way to recognize extraordinary contributions to the University of California or the community of learning. This is the first such medal awarded by President Drake.