Magnify Mixer Series
Thursday, October 3, 2019
12:00 – 1:30pm
A reminder that this month's mixer will be held in the 3rd Floor Executive Conference Rooms rather than the Presentation Space.
Please join us for this special ad hoc lunchtime mixer for presentations, equipment demos, Q&A and networking. Lunch and refreshments will be served.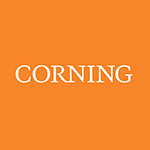 Presenter: Alicia Brotchie, Western Regional Sales Manager, Corning, Inc.
Magnify is proud to offer our portfolio companies with a selection of shared equipment through our partnership with Corning, provider of high quality, innovative products for life science applications. Please join us for this informative mixer to learn about Corning's diverse range of products that can help startup companies reach their next set of scientific milestones. Alicia will be conducting product demos and will be available to help answer any questions.
Alicia Brotchie has served as the Western Regional Sales Manager, OEM and Equipment, for Corning Incorporated for the past two years. Prior to that, she served for 7 years as a general sales rep with Corning promoting their general portfolio. Alicia previously worked with VWR for 5 years.